A Home with a History: in the second-hand spirit of things in East Sussex
An escape to the country symbolised something of a homecoming for Katy and John Maskell Bell and their young family, who found a welcome echo of familiarity in a farmhouse with a Gothic twist.
Katy and John Maskell Bell are trying to count the pieces they bought new for their Victorian farmhouse and they're still on a single hand. We've landed on the French bed (a moving-in present from John's parents), three ruffled lamp shades from Beauvamp and four of Hans Wegner's 'Wishbone' chairs. These are arranged around a refectory table that spent the last few decades in Katy's family home. There are still two fingers left.
"Everything is either a hand-me-down or it's upcycled," Katy explains over coffee and cinnamon buns in the newly knocked-through kitchen. "I'd much rather something had a story – even if it's someone else's."
The mist that shrouded our progress down the track to Stitches Farm House – long enough for total seclusion, and then some – is just starting to lift. The name must have seemed serendipitous to Katy and John, who met as art students at Central Saint Martins and now run their sustainable handmade leather-bag business, LPOL, from a studio above the old garage.
The couple, their five-year-old son, Wilfred, and ocicats Monty and Tibbs have spent the last two years slowly bedding in here, after leaving their much-loved Camden maisonette in pursuit of a quieter life closer to where they both grew up. A lockdown cliché perhaps, but one that was a long time coming. "As you learn in your later years, you should always leave a party a little earlier than you think you should," says John. "We could have squeezed a few more years out of London, but we were longing for a different sort of life."
Such is the pair's gusto for a good second-hand buy that you'd be forgiven for thinking they chose this spot on the very edge of East Sussex – "turn on to the road to Tunbridge Wells and you're in Kent" – for the antiquing potential alone. They seem to strike gold in every direction: there are the two directors' chairs picked up for a tenner in Hastings, the Victorian cabinets hauled home after repeat visits to Ardingly, and enviable finds from rummages in Lewes and Rye. In between antique-market tip-offs, we take the tour.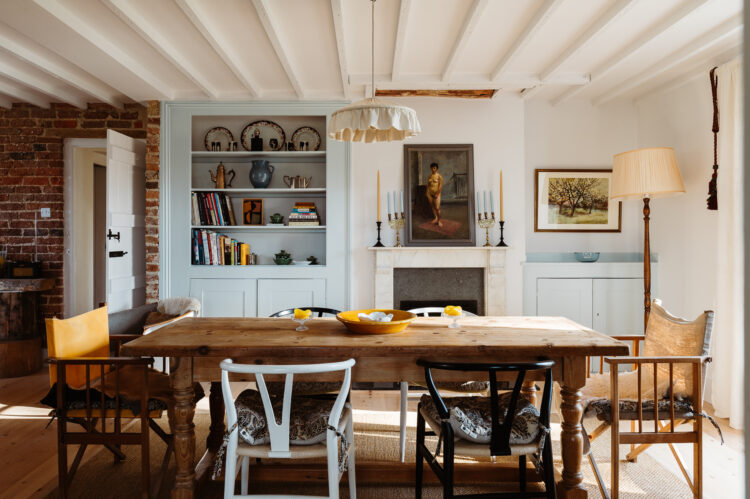 John: "On our way to view the house in lockdown, Wilfred had been singing Old MacDonald. The people showing us round told us that the owners of this old farmhouse were called the MacDonalds and we spotted that Mr MacDonald had left his red tractor in the field. Wilf had effectively arrived on the set of his favourite nursery rhyme. It's a silly coincidence, but I like to think there might have been a little message in there.
"The house sits within the Eridge Park Estate and we're surrounded by acres of farmland. It was built for the farm manager in 1883 and its Gothic Revival details, like the pinnacle roof, arched windows and decorative bargeboards, are references to the main house belonging to the Marquess of Abergavenny, which was rebuilt in the Strawberry Hill Gothic style after it burned down. Stitches has very particular Eridge Park hallmarks."
Katy: "I grew up nearby, in a cottage on the Abergavenny estate, so it felt immediately familiar. My granddad was an architect and he always said that Victorian houses are solid – well-made and with good foundations."
John: "Moving into an old house is to embrace imperfection. Old houses are wonky, drafty, full of holes – and that's the beauty of them. We're both drawn to the sensorial, elemental nature of things; we work with naturally tanned leather for our bags and like seeing all the imperfections in the skin. You learn to love the quirks and idiosyncrasies. The same is true with buildings."
Katy: "The previous owners had a really light touch, so mostly it's been a case of adding features back in. When they did spend money, they made good decisions. The house has actually been extended twice – the front has been done well with old Tonbridge brick; the back is more of an add-on, but it's still pretty good.
"Downstairs had a mishmash of lino and quarry tiles underfoot. We were deliberating over the different flooring choices and then decided we were doing it back to front. We went off to a reclamation yard to find something to fit the space. That approach made things much easier."
John: "We took the plaster off the ceiling to uncover the big nine-inch pine joists. They're not beautiful beams, but I quite like the gnarly bits. It gave us some extra height and brought a bit of character back into the house.
"We also stripped back the far wall in the kitchen. In our mind's eye, we were going to reveal a perfectly formed brick wall. The reality was anything but. There were all these scars – a doorway appeared and then another big old hole which we think might have been a bread oven. The builder had to fill it up with bricks."
Katy: "In the end it was a happy accident, but at the time it was definitely a case of: 'Oh my goodness me!'
"There was a lovely old Shaker-style kitchen in here, but the layout was unbalanced – the Aga was in the corner and the fridge had somehow ended up in the boot room. John's really savvy with eBay, so we managed to sell the kitchen to someone in Tunbridge Wells and went to British Standard for ours."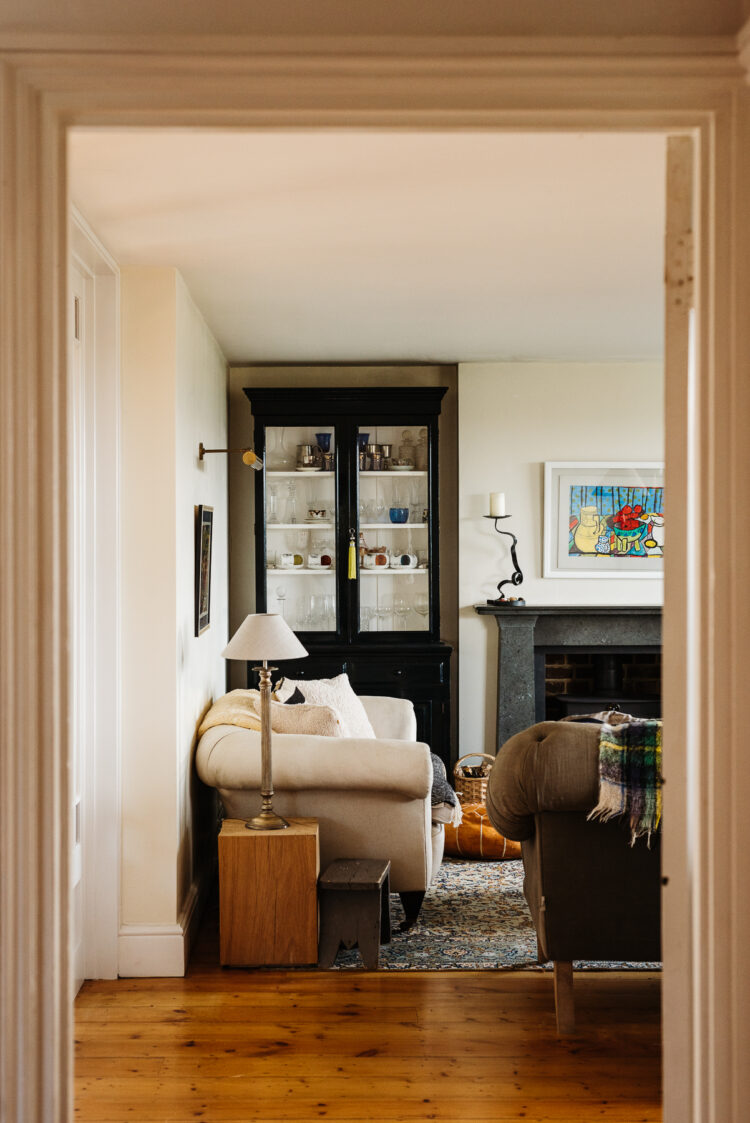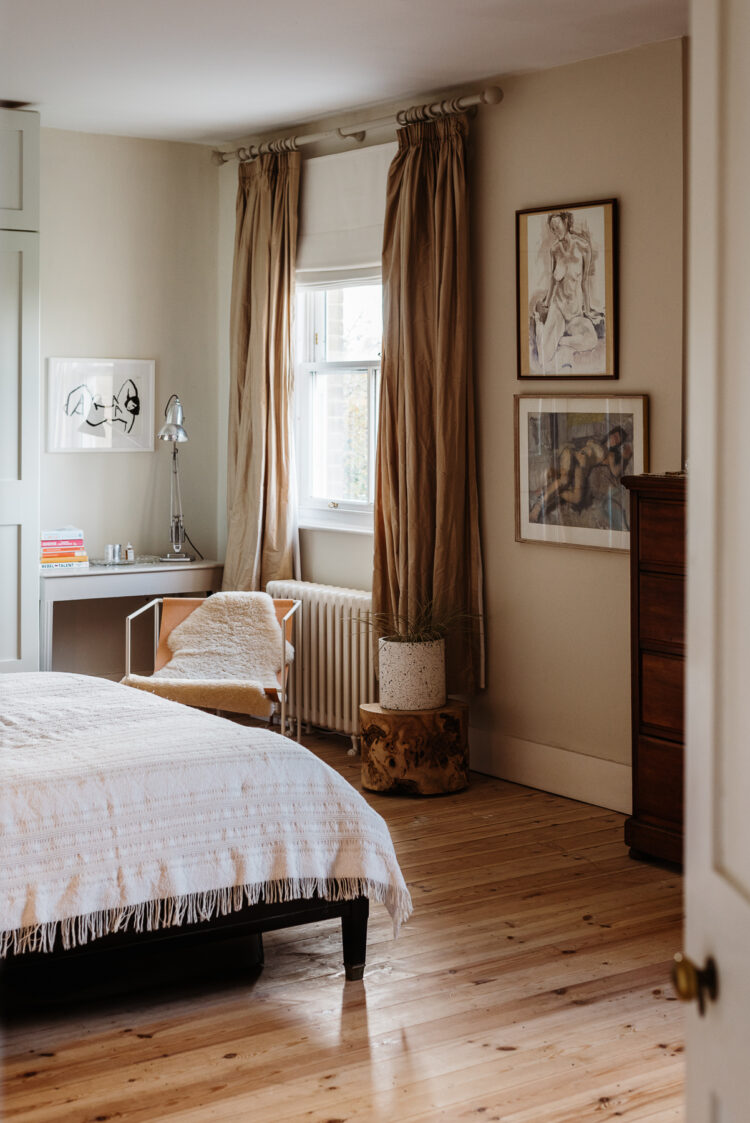 John: "The best way to describe our style is probably 'collected'. There's proper craftsmanship in old furniture, and the quality of timber that was used in the Victorian era is almost incomparable to the pine and oak you get now. The beautiful dresser was a gift from a wonderful old lady who lived next door to Katy's parents, who no longer had space for it. Katy gave it a bit of a lift with blue-black gloss.
"East Sussex is teeming with county brocantes and antiques fairs. I love that moment when you throw something in the boot and think: 'I wonder what you've been up to for the last 100 years?'"
Katy: "We're lucky in that we have a fairly similar eye and we'll nearly always agree if something looks right – or wrong. John is a little more restrained, however; I'd paint everything if left to my own devices. I'm about to start on a fresco in the downstairs loo.
"The best view in the house is from the desk in the sitting room. We visited Sissinghurst, where Nigel Nicholson had an amazing hexagonal studio on the river. Seeing that made us realise that we could be benefiting from the view here all the time.
"In autumn, at around 4 o'clock when the sun is low, golden light comes in and glimmers through the whole house. It's glorious in summer too. It has a haziness that makes it feel like a memory."
John: "It gives you a sense of revisiting, a feeling of nostalgia.
"The people who were here before the previous owners were landscape photographers and gardeners. If they were to come back now, they'd probably be mortified! The big garden is a challenge for us. This way of life – a house like this – demands your attention. When we take our lunch break here, we only ever have a quick bite to eat before getting an hour's gardening in, or fixing a fence post."
Katy: "Now we've got our eye on the stables, which would make a lovely guest retreat. I'm not up for it just yet, but it's in our nature – there's got to be a project somewhere ahead."
Read the article here >